A dispatch from long-time South Fork angler Bill Eastlake:
It's finally getting to fall fishing time! A bit of drizzle and a bit of cooler temps might make fishing better and get us out of this long hot smoky summer. Fishing in mid September on the Owyhee and South Fork was good, but it was still too warm and hazy for ideal human activity.
By the way, the South Fork looks like an Alaska river during salmon spawning season.  I believe the Zimowsky piece on kokanee above Arrowrock and below Anderson Ranch Dam seriously underestimated how many fish there are. I don't think I had ever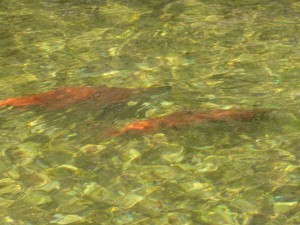 seen more than two or three orange kokanee in the South Fork over a weekend before this year.
Last week they were paired up in good gravel and building redds, lots of them. We counted groups of 20 or so in several spots. There were assorted few in almost every place we fished. There were dead ones floating by, marooned on shore, etc, all over the river.
One shallow area above Cow Creek that I favor at low flows for trout had so many kokanee I didn't bother to cast for trout. There must have been at least a hundred! It was unbelievable to see so many kokanee. I guess that means good populations of salmon for Arrowrock next year, but I really thought they were "in the way" of trout fishing.