A final step in restoring Pierce Creek will happen on March 30, 2019 and we need volunteers to make it reality. Planting the streamside area around the rebuilt bridge at Pierce Creek (on the South Fork of the Boise River, near the Danskin boat ramp) will stabilize the stream bank of this important habitat.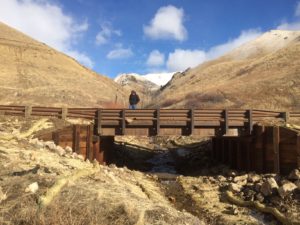 The Pierce Creek Bridge was installed in 2011 and the footings were then rebuilt in 2018 after watershed debris flows undermined the foundation. This project was inspired and led by Trout Unlimited, working with the Mountain Home Highway District and the Boise National Forest. With a bridge replacing a culvert on Pierce Creek, the free passage of wild trout and other fish species is secured for this tributary to the South Fork Boise River.
Join the contingent of volunteers to help finish the job at Pierce Creek.
The particulars:
Saturday, March 30, 2019.

Meet at the Albertson's parking lot at Federal Way and Gowen Road between 8:30 a.m. & 9:00 a.m. We will make carpool arrangements and leave from there at 9:00 a.m. and carpool to the South Fork Boise River.

In the morning we will gather willow 

cuttings 

at locations along the South Fork Boise River.

In the 

afternoon we will plant the cuttings in the bank along Pierce Creek.

Lunch will be provided by Ted Trueblood Chapter of Trout Unlimited, using our eager and experienced cooking crew and equipment from our summer Trout Camp.

Total work time is estimated to be four to six hours. Mid-afternoon return to Albertson's in Boise.

Bring work gloves.  Bring a folding chair if you have one for sitting at lunch.
Please RSVP to Bruce Johnstone at BJohnstone1@cableone.net by Thursday March 28.